For patients with treatment-resistant schizophrenia…
After schizophrenia treatment failures,
Change Course
Versacloz
Provides a highly concentrated, low-volume suspension: 1 mL of Versacloz = 50 mg of clozapine1
Requires no refrigeration
Measured and dosed using an oral syringe
Easy conversion from mg to mL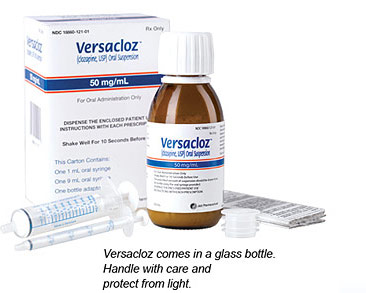 Important Safety Information
OVERDOSAGE
Overdosage Experience
The most commonly reported signs and symptoms associated with clozapine overdose are: sedation, delirium, coma, tachycardia, hypotension, respiratory depression or failure, and hypersalivation. There are reports of aspiration pneumonia, cardiac arrhythmias, and seizure. Fatal overdoses have been reported with clozapine, generally at doses above 2500 mg. There have also been reports of patients recovering from overdoses well in excess of 4 g.
Management of Overdosage
For the most up-to-date information on the management of VERSACLOZ overdosage, contact a certified Regional Poison Control Center (1-800-222-1222). Telephone numbers of certified Regional Poison Control Centers are listed in the Physician's Desk Reference®, a registered trademark of PDR Network. Establish and maintain an airway; ensure adequate oxygenation and ventilation. Monitor cardiac status and vital signs. Use general symptomatic and supportive measures. There are no specific antidotes for VERSACLOZ.
In managing overdosage, consider the possibility of multiple-drug involvement.
You may contact the Clozapine REMS Program at 1-888-586-0758 or Fax: 1-800-878-5927
or at https://www.newclozapinerems.com.
Please see the full Prescribing Information for Important Safety Information, including
BOXED Warning.
Click here for additional safety information.
Reference: 1. Versacloz® Prescribing Information, Warminister, PA: Tasman Pharma Inc. 2021
The information on this website is intended for use only by residents of the
United States.