Blood monitoring — WBC/ANC Guidelines1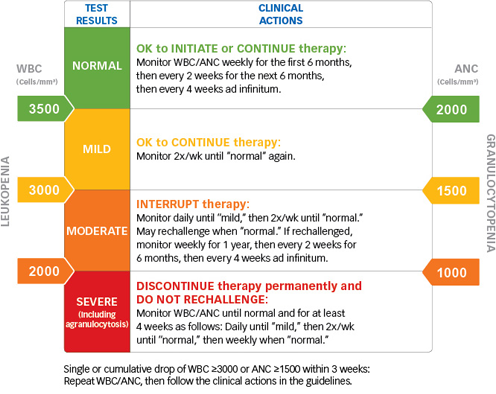 Clinical Compliance Liaisons (CCLs)* assist staff with monitoring WBC and ANC levels, alert staff when blood draws are missed or low counts are detected, and notify staff when test results meet reduced monitoring qualifications. Click here to go to the Clozapine REMS Program, or call 1-888-586-0758.
*As required by the FDA to ensure appropriate monitoring of WBC and ANC levels of patients on clozapine.
Important Safety Information
Advise patients to immediately report symptoms consistent with severe neutropenia or infection (e.g., fever, weakness, lethargy, or sore throat) [see Dosage and Administration (2.1) and Warnings and Precautions (5.1) of the Prescribing Information].
Please see the full Prescribing Information for Important Safety Information, including
BOXED Warning.
Click here for additional safety information.
Reference: 1. Versacloz® Prescribing Information, Warminister, PA: Tasman Pharma Inc. 2021
The information on this website is intended for use only by residents of the
United States.